The County of Los Angeles (LA County) Department of Arts and Culture invests hundreds of millions of dollars in local organizations to promote arts and cultural activities. They wanted to evaluate how they are doing that through an equity lens, so they partnered with AECOM and CulturalPlanningGroup to gather the data. In order to increase transparency and accessibility, the Arts Commission commissioned a new site to showcase the data related to its funding programs and initiatives. Brand New Box took on the role of designing and building the site to explain and explore the data.
Process
Starting with a round of sketches, our designer explores ways to present the data. We wanted to keep it fairly simple, so text explanation on one side and data on the other. Everything is displayed on a single-page scrolling site.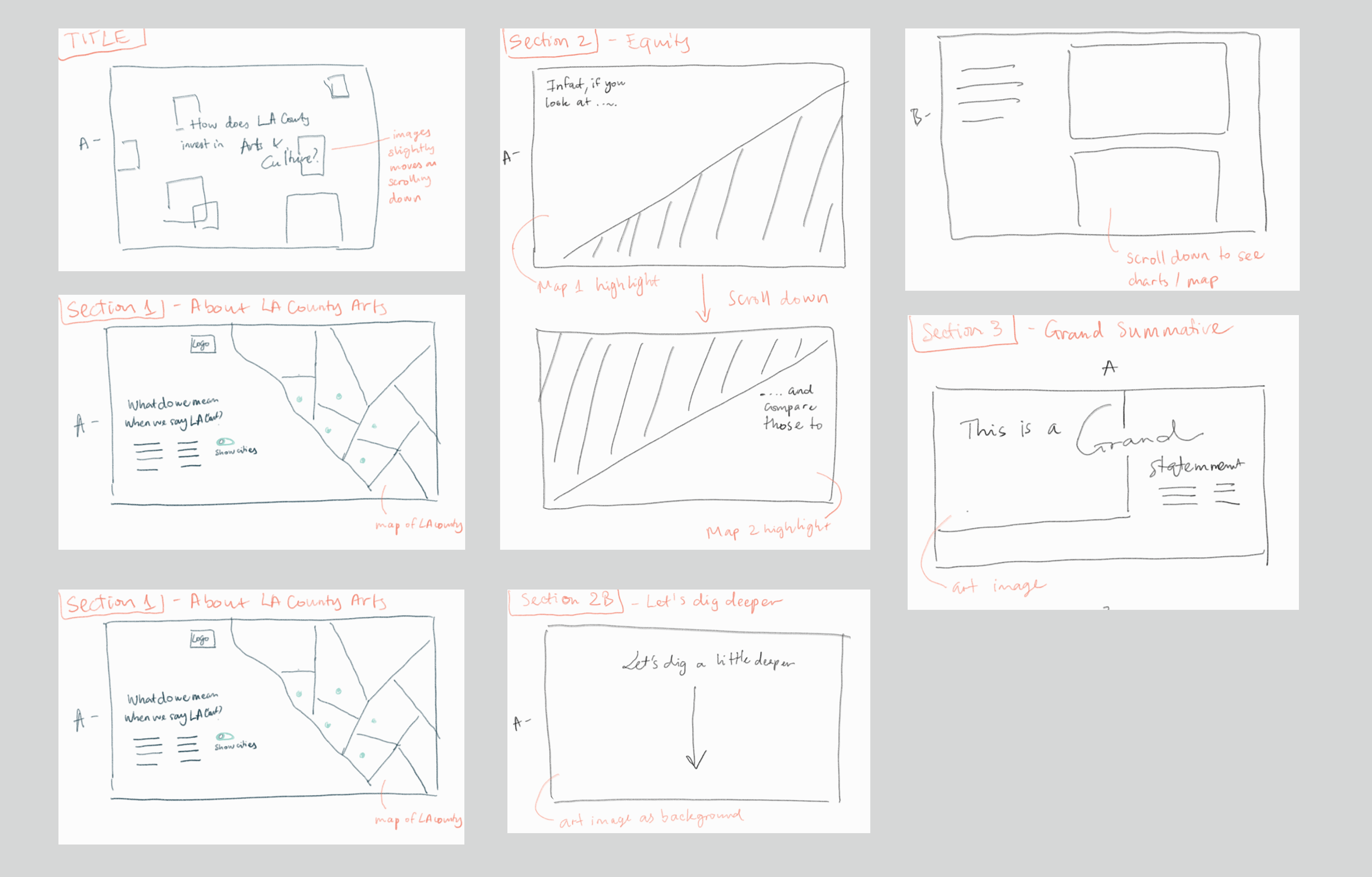 We then work on creating a small design system on Figma to match the LA County branding. This helps us put together the wireframes more efficiently.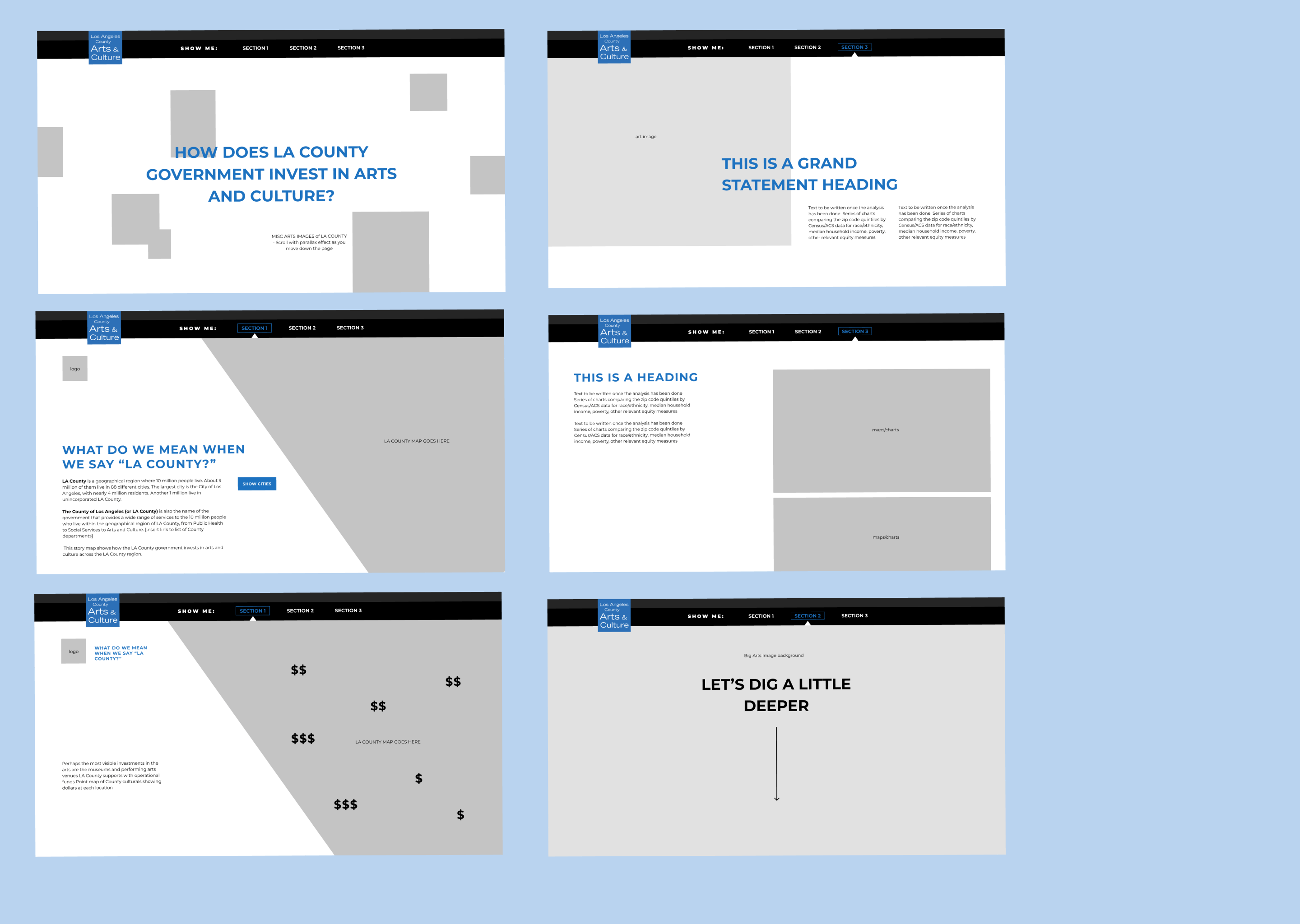 Finally, we assemble the mockups and create a prototype complete with interactions. The parallax effect is used at the beginning to give a sense that you're immersing into the story map.
Features
The content is divided into three parts: Investment, Equity, and Future.
Investments. One of the key features of the site is the inclusion of data on the amount and locations of LA County's funding. This is shown through a sequence of interactive maps and graphs. Website visitors can filter out certain layers of the map to see the impact of money invested.
Beyond the numbers, LA County integrates arts and culture into several of its operations and services that aren't captured in the data. We showcase this in a gallery of blue tiles that users can explore more by clicking on them.
Equity. Another important aspect of the website is the Equity Dashboards, which show how LA County's investments in arts and culture relate to the different dimensions of equity. Visitors can explore each dashboard by zooming in and out of the map and seeing the change in numbers.
The Future. At the end, the County summarizes their funding, and points to some strategies to increase equity in arts funding in the future.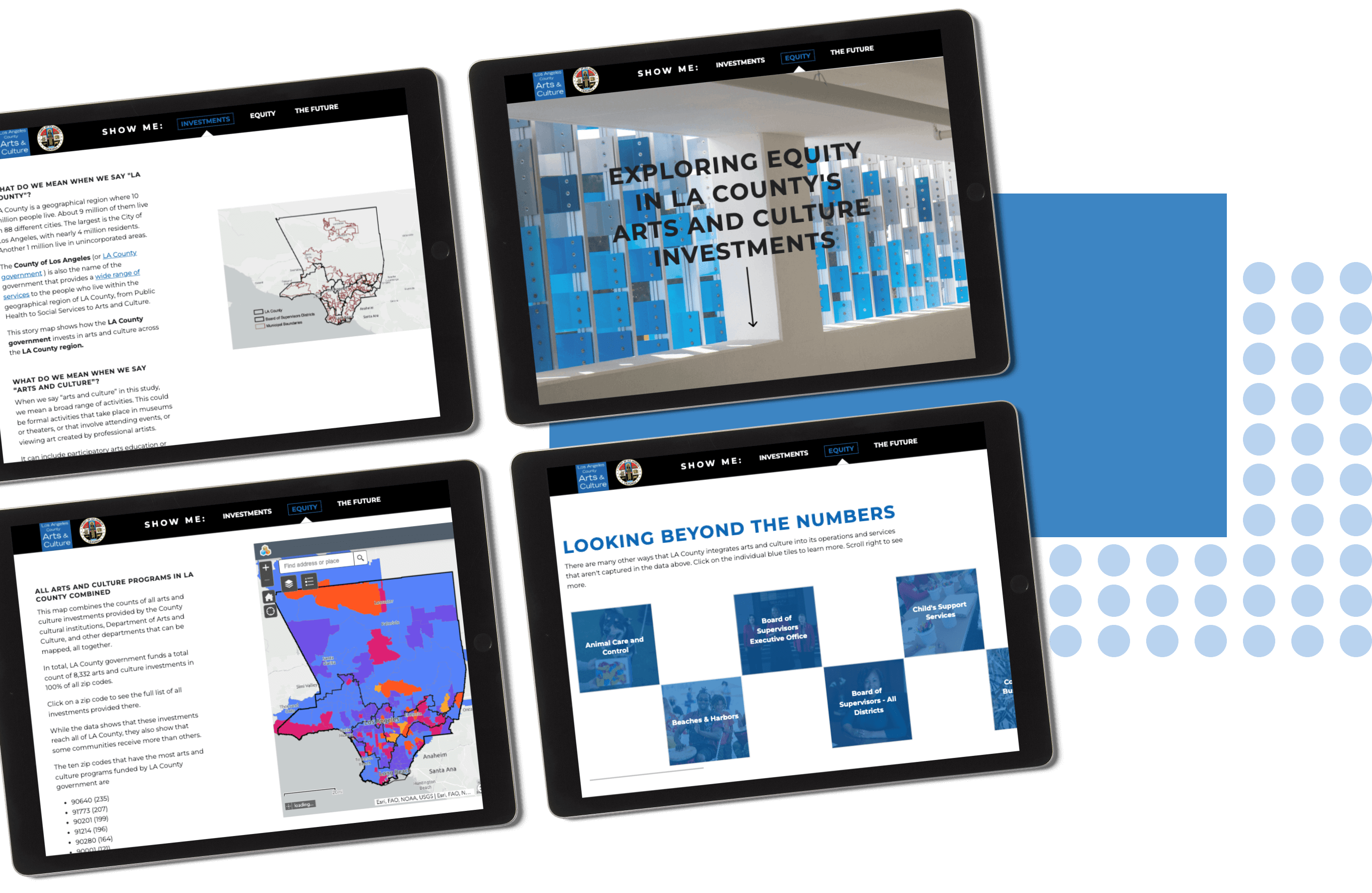 Recap
In this project, we seek to answer the question of how the County of Los Angeles invests in arts and culture. Through a series of interactive maps and statistics, users are able to explore the investment, equity, and future of funding in LA County.
Overall, the design of the Los Angeles County Arts Commission website has been rewarding, providing a valuable resource for both the public and arts organizations, and increasing transparency and accessibility of the LA County's funding programs.
You can see the site and exmplore the data at lacountyartsdata.org.